Ovens Acunto Naples
Masters of the Tradition
We will reveal to you how our wood-fired ovens guarantee cooking that is faithful to the principles of tradition
The experience of four generations passed from hand to man
È dal 1892 che ce ne occupiamo. Il metodo originale per la costruzione artigianale di Vincenzo Acunto è stato
tramandato fino ad oggi e affidato alle mani di Gianni e dei suoi figli
The original wood-fired ovens to fully relive the Neapolitan tradition. To obtain the best performance from the flame, it is preferable to use beech wood for lighting and oak wood to maintain the temperature.
For places that cannot use wood, we have designed gas-fired ovens. A solution that considerably simplifies temperature management, without altering the quality and flavor of the pizza.
We use CE marked components and our ovens have obtained UL certification, a guarantee of safety for the American market. Acunto Napoli is also registered in the register of Official Suppliers of the "Vera Pizza Napoletana", proof of reliability and tradition.
Each oven is a unique piece
There is only one way to build this type of oven: by hand.
Attention to the smallest detail and the choice of the right materials allows for robust solidity and perfect thermal insulation.
Acunto Napoli ovens are accessible everywhere.
From Japan to America, we are capable of designing, manufacturing and shipping models
based on the needs of each individual customer, respecting the highest safety standards.
We will reply as soon as possible.
Fields marked with an asterisk are mandatory
Gianni Acunto s.r.l
Registered office
Viale Maria Bakunin 12 – 80125 -Napoli
Operational headquarters
Via Larga sn Zona Pip – 81038 Trentola Ducenta (CE)
Tel/Fax +39 081 814 74 77
P.iva: 07361861219
Email:info@acunto.it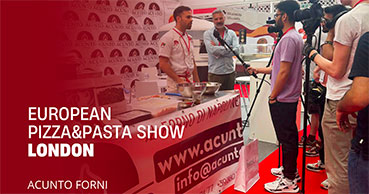 Pizza and Pasta Show 2023: l'evento imperdibile per i professionisti del settore della pizza e della pasta Per chi come noi, lavora …