We had the opportunity to chat with the best Neapolitan pizza chef in America, precisely in New York, Roberto Caporuscio, our friends and client.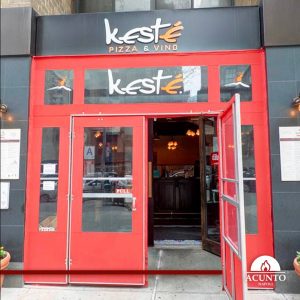 We show you some questions from the interview in which Roberto participated:
COULD YOU INTRODUCE YOURSELF TO GIANNI ACUNTO FORNI'S FRIENDS?
Hi, my name is Roberto Caporuscio. I am a Neapolitan pizza maker and owner of a pizzeria named Mesté in New York. I represent APN in the USA since I have opened more than 70 Pizzerias in the United States and I have trained 320 Pizzaioli.
I am both a pizza maker and an Instructor.
I opened my first pizze

ria in 2001. And since then for all my openings I have always and only referred to Gianni Acuto ovens.
For the tradition, the culture and the quality of the typical ingredients of the real Neapolitan pizza.
How long have you been doing this trade or how long have you opened your pizzeria?
I opened my first pizzeria in Pittsburgh in 2001, the second always in Pittsburghnel in 2004. In 2012 I o

pened the Don Antonio pizzeria in Nyc, in 2017 keste pizza academy where there are 2 gianni acunto ovens and in more than 20 pizzerias we use only the gianni acuto ovens.
WHAT DID YOU CHOOSE THE WORLD OF PIZZA?
Because it is my favor food and it has so much history and traditions and i love it.
TELL US YOUR STORY?
I was a farmer and cheese marker in Latina, when at the age of 38 around March 1999 I decided to change my life and went to the school in Naples, the APN.

My first time in America 

in Pittsburg was to learn English in fact I had to be in the United States only 3 months and I was 22 after 7 years I opened 2 pizzerias here then I moved to New Jersey and a

fter 6 months I became the representative for the APN (Association of Neapolitan pizza makers) president for the USA from that moment I started consulting for 72 pizzerias and I teach for 300 pizza makers in the USA
HOW IS IT TO MANAGE A PIZZERIA IN YOUR COUNTRY?
Managing a pizzeria in my country is different from Italy because here we need more attention to the Italian service, we have to build customer loyalty by convincing them to choose us because we are the best. when I arrived here in 1999 there were only 3 Neapolitan pizzerias.
WHY DID YOU CHOOSE OUR OVENS?
Because Acunto represents: quality, history and traditions plus using good wood, ovens the temperature and cooking pizzas in the best way the real Neapolitan pizza.
HAS COVID CHANGED THE WAY YOU WORK?
yes covid has changed the strategy a lot, now we focus on delivery.
WHAT ARE THE PROJECTS FOR THE FUTURE?
we would like to point to the frozen pizza that keeps the best product and spreads the tradition of Neapolitan pizza around the world.
A LAST GREETING TO OUR FRIENDS ?
Gianni Acunto Family it the best company for Neapolitan oven mobile and non thank you.