Our journey to discover our ovens around the world continues, today we interviewed the owner of Zielona Górka, a corner of Naples in Poland.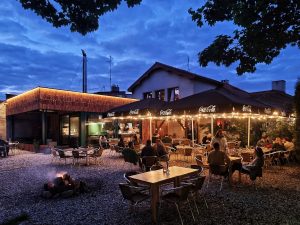 ARE YOU A PIZZAIUOLO OR AN ENTREPRENEUR?
I love making pizza and together with my wife Lila we run the restaurant "Zielona Górka" in Pabianice.

Being both a pizzaiuolo and business owner I am making the pizza for our guests almost every day from start to late evening hours.

Pizza napoletana is art and making a beautiful dish is always rewarding. It puts a smile on peoples' face, which makes the world a better place every single time.
HOW LONG HAVE YOU BEEN DOING THIS TRADE OR HOW LONG HAVE YOU OPENED YOUR PIZZERIA ? 
We've been running the restaurant for 6 years now. In 2020 we became a certified AVPN Pizzeria #818.
WHAT DID YOU CHOOSE THE WORLD OF PIZZA?
When I was a kid I used to watch Teenage Mutant Ninja Turtles. They would eat pizza all the time and I always dreamed of being a ninja. Making pizza napoletana has all these elements somehow combined. It is art, action, perfection, detail, fire, goodness.

Over years I would never miss a single chance to eat a pizza. My Mother would be making it at home for me when I was really young. I would be making pizza too. I always could eat more pizza than others!

I think that pizza chose me 
I was born in 1984 in Pabianice and have been living here for 37 years now.

When I was young I became fascinated with computers so much that a friend of my parents, who was a teacher at the technical university, would learn me programming and making simple computer programs. I was about 10 years old. Later I discovered guitar and music and spent years learning to play it. One day I even had a dream that my hands are pizza and recorded a song about it ;) 

When it came to choosing studies I could pick between IT and Architecture. Eventually I picked the second, because it was closer to my way of living and I didn't want to spend my life with computer.

After getting Master in Architecture degree I got a good job, also started my own design studio and went to PhD studies.

When I completed the second studies, ready to write the PhD thesis after passing all the exams I stopped to think about where is it all going. And then me and Lila got an opportunity to open our restaurant. We decided to give it a go.

I remember coming to university and telling my professors: "I am going to make the pizza". You can only imagine their reaction.

I think that the whole pizza style living has been inside me since I first ate pizza and watched Teenage Mutant Ninja Turtles 

Lila and I spent the first year and all our savings on turning a house into a restaurant. We made and build most elements ourselves with the help of good friends.

After 3 years of learning and investing we came to Napoli to learn from the Masters.

Our Friends from Associazione Verace Pizza Napoletana gave us support and training that helped us design the new pizza building which holds the beautiful Acunto Angolare! It is a small architectural masterpiece – it is a building designed to fit the oven :)

Over the past years we had an opportunity to meet fantastic People of Napoli. You helped us transform our local community and make it more aware and happy thanks to original pizza!

Our pizzeria is visited by guests from all the country and everyone loves the view of the green Acunto oven as seen from the park, street and garden.

In the past years we took part in pizza events with surprising results:

-Trofeo Pulcinella 2018, Napoli – 5th place (technical jury)

-Olimpiadi Vera Pizza Napoletana 2019, Napoli – 6th place "Under 35"

-Best Pizzeria AVPN 2021 – Top 30.

The world of pizza is new to us, but I think me and Lila have Neapolitan hearts 
HOW IS IT TO MANAGE A PIZZERIA IN YOUR COUNTRY?
We work every day. Pizza Napoletana is still a new dish to the local customer. Our mission is to make it as good as possible. We make the impasto every day. We hand mix the tomatoes. We use Mozzarella and other ingredients imported from Napoli. There are still too few qualified pizzaiuolos to represent the good standards of AVPN, so the pizza itself is made by two pizzaiuolos and one maestro d'impasto: Me, Kacper Kacprzak and Kacper Walczak.

Quality is our top priority.
WHY DID YOU CHOOSE OUR OVENS?
I fell in love with them from the first sight.

Simple as that!

Just one look of an architects eye and you can tell that these ovens stand for quality.

Acunto Angolare oven is a top class design for me. I also think it is sort of a sport oven, you have to be quick and precise. It is very delicate in operation, yet really rewarding :)

I love working with your oven and every time I look at it it puts a smile on my face. It is a piece of true pizza history and makes our whole story authentic. I brought a part volcano stone from top of the Vesuvio and put it under the oven. Combined with the lucky horseshoe these all create a true mojo source in our kitchen :)

And I have a big green Acunto Angolare that looks like a Ninja Turtle

picture with Annamaria Acunto.
HAS COVID CHANGED THE WAY YOU WORK?
It helped us become more reactive to client needs.

We had to make deliveries on our own (no uber/glovo here) in winter time. Lila and waitresses did all this delivery service! Our restaurant now has a mobile app for ordering and menu viewing. Now it is a bit more normal with guests in the restaurant, but we are ready to change our workflow at any moment. 
WHAT ARE THE PROJECTS FOR THE FUTURE?
We keep having new ideas every day. I would like to standarize our operations and make our pizzeria a brand which stands for time and quality. I would like to have more Acunto ovens :) 
A LAST GREETING TO OUR FRIENDS
I would like to thank Acunto family for the best oven which makes our work authentic!

I would like to thank Associazione Verace Pizza Napoletana for supporting us and sharing the most fantastic dish in the world: Pizza Napoletana!

Special thanks go to my wife Lila, who brings sense and smile to everything we do together.

Thank go to our Families, Friends and Staff who helped us make the most unconventional Pizzeria in Polonia 

I would like to thank all the Guests of our restaurant, you make our work complete!